Career Coach, Speaker & Author Lance T. Walker

"I provide business building services and transitional job coaching especially tailored for entrepreneurs and military veterans."
Who is Career Coach, Speaker & Author  Lance T. Walker?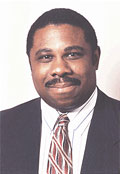 An experienced, co-active Business Coach helping people reach inside themselves to find solutions to their vocational and financial challenges.

A proud Air Force Avionics Communications veteran, and Special Ops squadron leader.

An "optimistic realist" with a track record of success in various high-tech and marketing endeavors, bringing substance and depth as well as engaging oratory.

An avid reader and scholar, serious student of six main mentors: Anthony Robbins, Wayne Dyer, Jim Rohn, Les Brown, Brian Tracy, and Michael Bernard Beckwith.

An accomplished, well-travelled researcher, driven by a desire to share the success secrets he's uncovered with other seekers.

A messenger of hope, of encouragement, and inspiration, bringing neuro-associative conditioning and other practical tools for turning life's frustrations into opportunities.

A motivating and educating speaker seeking to re-energize the minds of many who are weighed down by fear and disillusionment.

A man on a serious mission…